bet365 News Team
Published: Jul 28 2022 17:10
European and Commonwealth cruiserweight champion Chris Billam-Smith sits down with bet365 as he prepares to headline this weekend's hotly-anticipated BOXXER event in his hometown of Bournemouth, knowing victory over Isaac Chamberlain could propel him into world title contention.
Chris Billam-Smith is without doubt one of professional Boxing's good guys; his 'Gentleman' moniker tells you its own story.
But, for all of his out of the ring pleasantries, the hard-hitting cruiserweight has already proven to be an entirely different animal when it comes to life within the dangerous and unpredictable confines of the square circle.
The 31-year-old packs a real punch, with 11 of his 15 victories to date coming by way of knockout – the most recent of those being an explosive stoppage of fellow British contender Tommy McCarthy in their April rematch.
A devastating cross-right, midway through round eight, ensured an impressive retention of the European and Commonwealth straps he had prized away from the same opponent by virtue of a more tentative split-decision victory last summer.
This weekend, just over three months on from that triumphant night in Manchester, Billam-Smith is hoping to mark his Bournemouth homecoming against Isaac Chamberlain in equally as emphatic fashion.
"I am so excited about this, I have wanted this for such a long time," he exclusively told bet365 in the build-up to Saturday night's dust up on the south coast. "Fighting on my own patch was the one and only condition I wanted for my next fight.
"I didn't care who the opponent was or anything like that, I just wanted to make sure it was back home in Bournemouth. Everybody is absolutely buzzing for it, my phone hasn't stopped ringing since the announcement.
"There is a huge buzz around the town and even the football club are getting right behind me – a few of the lads are coming down, and even some of the ex-players too, Aaron Ramsdale, who I have done a bit of boxing with in the past, will be there.
"To be headlining a night like this in my hometown is incredibly special. The place will be rocking. I just have to go out there, keep building the momentum, put on a real show and get the win now, which I am absolutely determined to do."
Other BOXXER News
BOXXER: Ben Whittaker on his professional debut, SugarHill Steward and world title aspirations
Chris Billam-Smith vs Isaac Chamberlain - Boxing: All you need to know
BOXXER: Liam 'Beefy' Smith set for Liverpool homecoming in September
A sixteenth professional victory at the Bournemouth International Centre would serve to enhance his already impressive standing within the upper-echelons of what is a stacked and exciting 200lb division.
"That is exactly where I want to be and this fight is one that can definitely push me on towards a fight at world level, for sure," he said.
"I am ranked highly with all of the governing bodies, so it is all about progressing now and fighting opponents with qualities that I haven't really faced before, and Isaac is going to provide a real challenge to me.
"For me, it is a really good clash of styles and, like me, he has just the one blotch on his record, a defeat to Lawrence (Okolie). Since then he has had a good win against Luke Watkins and followed that up with a lot of good stoppages.
"He likes to put punches together, he carries a bit of power, he has quick hands too – and the same with me, I am aggressive, I like to really push the pace and work away, so it all makes for a really exciting fight – the fans are going to be in for a treat!"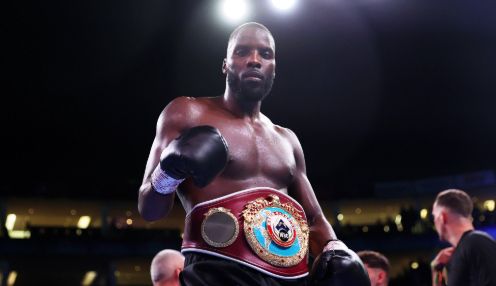 Billam-Smith is adamant that a potential showdown with stablemate and current WBO champion is not in the offing.
Given his close professional and personal relationship with stable mate Okolie, you'd be forgiven for thinking Billam-Smith had been tapping into the impressive Londoner's knowledge after he comprehensively beat Chamberlain himself, back in 2018.
"To be honest, we haven't spoken about it," he said. "Maybe because we are both so different in the way we go about our business. He is obviously very tall, long and rangy in the way he fights, and I have different attributes to him.
"Lawrence has improved since that fight, it was a long time ago, and I am sure that Isaac is a better and different fighter since then too. I may watch it back and take something from it, but I am just focussing on my own strengths."
Okolie's own ambitions of adding the WBA, IBF and IBO belts to his WBO version leaves a potential route to world honours for Billam-Smith unclear, especially with the Bournemouth-based fighter adamant the pair could never share a professional ring.
"Look, we are close and we are both fighting from the same gym, so even if we wanted to make that one happen it would be difficult," he smiled. "Who would be in his corner, who would be in mine – that would throw a problem up – for me that fight will never happen, we are too close.
"He supports me and I support him, and friend to friend, I really hope he goes on to get the unification fight because he has a lot of hunger for it and he has the ability to clean-up, I have no doubt about that.
"There is a bit of a strange dynamic at the top of the cruiserweight division at the moment. Obviously (Mairis) Briedis has just lost to (Jai) Opetaia, who has got a broken jaw, so he isn't likely to be in a position to fight for quite some time, plus that is a fight I think Lawrence is looking at too.
"I'd love the Ilunga Makabu fight – he holds the WBC belt at the moment and that would be a good fight, a dangerous fight. If we were able to make that happen then great, but a pathway is unclear at the moment."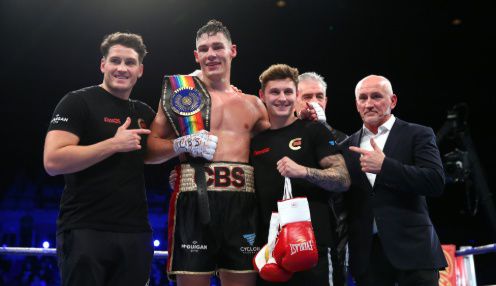 Billam-Smith has described trainer Shane McGuigan as one of the best in the business.
For now, Billam-Smith appears happy to bide his time, and continue to allow esteemed coach Shane McGuigan the opportunity to further hone and nurture his undoubted skill-set.
"I want that world title fight, of course I do, but if I have to take a fight or two in the meantime then I would happily do that. That would mean I could get a good world-level opponent in and take a bit more time in working with Shane and preparing myself for a title shot down the line.
"Shane is an outstanding coach, he is so adaptable – just look at the range of fighters he has within his stable. We all have entirely different fighting styles in there, so he has to be on top of us all.
"Caroline (Dubois) is a south paw, Dan (Dubois) is a real big punching heavyweight, Lawrence (Okolie) is a real skilful hard-hitting cruiserweight – I am a bit more aggressive as a cruiserweight, and then there is everybody else, who have their own traits too.
"He has to adapt to each of us, but he does that superbly well and manages to get the best out of us all – I believe he is the best in the UK for sure, and one of the best in the world, so I have no issues with biding my time, and continuing to improve with him."
If and when that opportunity does present itself to the 31-year-old however, there is only one venue in the world where he would want the stage to be set…
"Right here in Bournemouth, at the Vitality Stadium, Dean Court, of course," he smiled. "That for me, has been the ultimate dream from the off – to box there one day and headline at my home team's football stadium.
"It's on the doorstep of my home, it is on Kings Park, where I used to play football myself as a kid, and where I run when I am training."
He added: "If anybody was to ask me to choose one venue to fight in, anywhere around the world, then it would have to be there. What a way to go for a first world title!"
Billam-Smith (8/15) vs Chamberlain (11/8) takes place this Saturday night (30th July) and is live on Sky Sports. The undercard gets underway from 7pm, with ring walks for the main event scheduled for 10pm.
Discover more from the world's favourite online betting brand
Latest sports betting and odds
Looking forward to the week aheadr